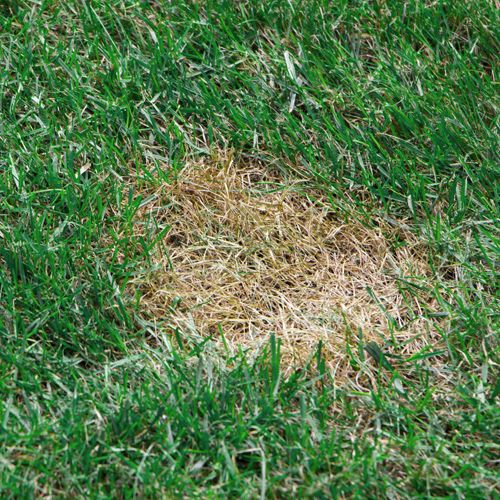 Common turf patch diseases include Yellow Patch (Rhizoctonia cerealis) and Summer Patch (Magnaporthe poae), as well as Necrotic ring spot. (See Necrotic ring spot)These diseases are caused by fungus that affects the roots of the grass.
What turf patch diseases look like:
Turf patch diseases are generally noticed as small circular patches or rings (6" – 12" in diameter) of straw yellow or reddish-brown grass that suddenly appear in the lawn.
How to prevent turf patch diseases:
● Aerate your lawn annually. Aeration helps minimize soil compaction and thatch which can be factors that cause turf patch diseases.
● Remove thatch that is greater than ½". Excess thatch provides an excellent habitat for the fungi that cause turf patch diseases.
● Avoid applying excess nitrogen fertilizer during hot weather
How to eradicate turf patch diseases:
Adam's Healthy Lawn professionals have several different fungicides that are not available in home and garden centers which can effectively treat the fungi that cause turf patch diseases.
Preventive treatments to lawns that have a history of turf patch diseases may be effective. Treatments begin in mid-April to early May and are repeated every 3 -4 weeks into July.
Talk to an Adam's Healthy Lawn Expert!
Adam's Pest Control Gets Rid of Common Weeds and Lawn Diseases.
Fast, Local Response
Competitive Pricing
Friendly Service
Licensed Professionals
100% Satisfaction