Adam's Pest Control in Edina, Minnesota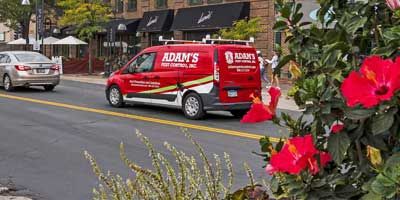 Since 1971, Adam's has been providing pest control in Edina, Minnesota. Whether you need fast response to a pest problem or ongoing pest prevention, Adam's has the right solution for you.
Edina is known for – and often chided for — its affluence, excellent schools, beautiful parks, and success in sports. But Edina residents know it is a great place to live and raise a family. Edina residents expect the best, and that's why Adam's is the first choice for pest control in Edina.
Edina was incorporated as a village in 1888 and residential development started in the early 1900s. Edina was the first planned city in Minnesota and the thoughtful design is evident in the variety of neighborhoods, nearby parks, and buffered commercial areas.
In addition to approximately 50,000 residents, Edina is also home to many corporate headquarters, including: Jerry's Foods, Edina Realty, Regis Corporation, International Dairy Queen and of course, Southdale, the world's first enclosed shopping mall — more people actually work in Edina than live here. Adam's also provides pest control services to Edina-area businesses.
Unfortunately, Emerald Ash Borers have been confirmed in Edina. Emerald ash borers attack all species, size, and age of ash tree; and can kill healthy ash trees, as well as stressed ash trees.
Common Pest Issues in Edina
Homeowners and business owners in Edina contend with a variety of pest issues, including:
Technicians
Meet the Best Pest Control Techs in Edina:
Healthy Lawn
Adam's professional lawn care service is keeping Edina lawns green, lush, and healthy.