Adam's Pest Control in Plymouth, Minnesota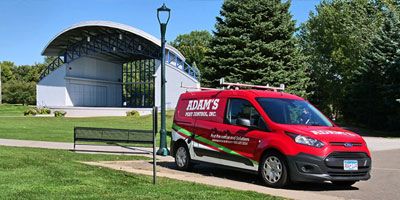 Adam's is the first choice for pest control in Plymouth, Minnesota. Whether you need fast response to a pest problem or ongoing pest prevention, Adam's has the right solution for your budget.
Plymouth is known for its strong neighborhoods, a first-rate park system, well-planned commercial-industrial areas, and highly regarded school districts. Plymouth is the 7th largest city in Minnesota and is home to nearly 76,000 residents and 58,000 jobs.
Companies located in Plymouth are from the insurance, medical device, manufacturing and research, as well retail and service industries. Major employers include, the Mosaic Company, a Fortune 500 company and the largest U.S. producer of potash and phosphate fertilizer; OneBeacon Insurance Group, a specialty insurance company; Banner Engineering, a globally recognized leader in the field of industrial automation; Twin City Fan Companies, a diverse group of fan companies that manufacture a full spectrum of air moving equipment; and Smiths Medical products, a global provider of an extensive range of medical devices and technologies.
Plymouth is where Adam's owners grew up. Owners Todd and Andrea graduated from Robbinsdale Armstrong Senior High in 1983 and 1989, respectively.
Adam's provides commercial pest control services to businesses in Plymouth.
Common Pest Issues in Plymouth
Homeowners and business owners in Plymouth contend with a variety of pest issues, including:
Technicians
Meet the Best Pest Control Techs in Plymouth:
Healthy Lawn
Adam's professional lawn care service is keeping Plymouth lawns green, lush, and healthy.
Keep your lawn healthy, lush, and green with Adam's professional lawn care service in Plymouth.
Adam's uses a precise blend of premium, professional grade fertilizers and times each application precisely so you'll have one of the greenest lawns in Plymouth. And Adam's regular contact treatments throughout the growing season means you won't be bothered by crabgrass and other weeds.