Adam's Pest Control in Woodbury, Minnesota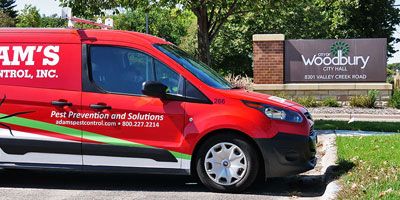 Adam's is the first choice for pest control in Woodbury, Minnesota. Adam's has the right solution whether you need ongoing pest prevention or fast response to a pest problem.
Woodbury is the best city in Minnesota in which to live, according to a 2018 list compiled by 24/7 Wall Street. "Woodbury has less poverty and unemployment than nearly any other large U.S. city," 24/7 Wall Street writes. "The typical household in the city earns $103,902 a year, the second highest median income in the state and one of the highest in the country." The accompanying description also notes that Woodbury is home to one of the best educated populations of U.S. cities.
Woodbury, a suburb of St. Paul, is the largest city in Washington County and is currently Minnesota's 9th largest city. One of the state's fastest growing cities, Woodbury's population of more than 65,000 is projected to reach 84,000 by 2030.
Woodbury's strategic location along I-494, I-694 and I-94 — convenient to both downtowns and only 20 minutes from the Minneapolis/St. Paul International Airport – makes it an ideal location for businesses.
A variety of companies call Woodbury home, including Assurant, Dean Foods, EcoWater Systems, Globe University, Summit Orthopedics, plus many smaller businesses and retailers.
Woodbury also boasts a thriving healthcare sector. The Minneapolis St. Paul Business Journal recently called Woodbury "healthcare's new favorite suburb," adding, "Healthcare providers, particularly specialty groups, have flocked to Woodbury recently."
Adam's takes pride in providing pest management services to many businesses and healthcare facilities in Woodbury.
Common Pest Issues in Woodbury, Minnesota
Woodbury is known for its beautiful residential neighborhoods, fantastic parks and recreational amenities, and excellent city services. The park system includes approximately 3,200 acres of parkland, eight small lakes, and 46 parks featuring a variety of playground equipment, athletic fields, picnic areas, and skating rinks. Many of the public parks are connected by more than 130 miles of multi-use trails.
Common Pest Issues in Woodbury
Homeowners and business owners in Woodbury contend with a variety of pest issues, including:
Healthy Lawn
Adam's professional lawn care service is keeping Woodbury lawns green, lush, and healthy.
Adam's uses a specific blend of premium, professional grade fertilizers and times each application precisely so our Woodbury customers have the greenest lawns. And Adam's regular weed treatments throughout the growing season means you won't be bothered by crabgrass and other weeds.