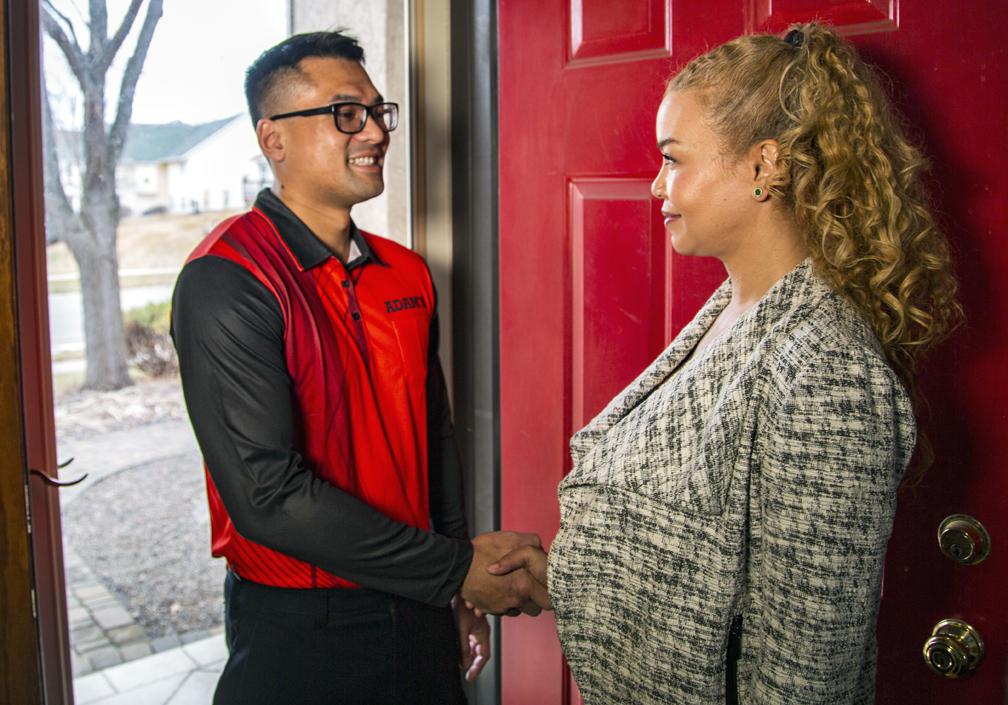 Hear What Our Customers Have To Say About Us
Rod just left my house and I wanted someone to know what a wonderful guy he is. He was so patient with all my questions. If I get a mouse in the house it will not be because he did not do his job.
– Amanda M.
We were VERY impressed with this company. We called Adam's initially after seeing Angie's List reviews, and liked their website as well. The receptionist was helpful and got a same day appointment. Adam's Pest Management Professional arrived on time, actually early, and did a great inspection. He explained everything to me, in laymans' terms, as he was inspecting. He was very courteous, not intrusive at all. Thankfully, he did not find any bugs and reassured me that there have not been any bugs in the recent weeks. He was very helpful, answered all my questions, and even spoke to my husband on the phone to tell him the details. Adam's Pest Management Professional had a lot of helpful knowledge about bed bugs, how they behave, where they hide, where we may have gotten them, and much more. We will definitely use this company again if we have any concerns.
– Anonymous, Lakeville, MN
Kevin did a fantastic job. He found holes where the mice were getting into the house that I did not see. I have been dealing with this mice issue for years and it's great to finally have it taken care of! I am very please with the service I received.
– Arlo L.
Of course no one ever desires to call an exterminator, but for having to do so Adam's was the perfect fit for our needs. Tim L., a Technician for Adam's, was assigned to our account and we were immensely impressed with his level of expertise and professionalism. Tim was great to work with and most importantly, he was successful in trapping the squirrels in our attic. We recommend Adams and highly recommend asking for Tim as your technician.
– Ashley R., Plymouth, MN
Craig is the man. It was like he was teaching me all the stuff regarding rodents and bugs that my dad should of taught me. My wife sleeps better knowing we have done all we can to keep the bugs and mice away. And I sleep better knowing that every nook and cranny has been checked and that there is nothing major growing in a deep corner somewhere. Also my neighbor uses a big name company and says they never show up on time and are rude. They would gladly pay a few bucks more for Craig.
– Benjamin B.
Not only did Adam's Pest Management Professional show up within hours, but he was fantastic. I learned what to look for and he repaired multiple locations where they may have been entering my home. He was pleasant, patient and very thorough. I have been battling this problem for a few years…I should have called a long time ago! Thanks for the great service.
– Bill S., Oakdale, MN
I rarely take the time to let someone know they're doing an awesome job. I want to let your company know that Josh, our Adam's Technician, is representing your company very well. He has a very pleasant demeanor, always concludes his visits, and offers valuable precautionary tips. This is a rare thing in my industry. I'm so used to vendors becoming complacent with their job, coming in as if they own the place, and not checking in or recapping their visit. I appreciate Josh's consistency, attention to detail, and the fact that I feel he really cares. Thank you Adam's for doing an awesome job!
– Bob R.
Frank has incredible customer service! He is wonderful with the kids and the dog and was great at explaining everything so I understood. I would highly recommend him and Adam's to anyone! I am very pleased with Frank's service and trust him in my home.
– Cassandra P.
We had several mice invade our basement in October. We put out DCON but they just kept coming. We called Adam's and had an appointment in less than a week. Mike was very friendly, very knowledgable and spent a lot of time in and out of the house. He fought the mice in multiple ways, and when we had him install a garage door brush on a subsequent visit, he took another spin in and out of the house (even though that wasn't the reason for his visit) and plugged a couple of more holes (you can see mousey tracks easier in snow) and put out big boxes of bait. We were so impressed that we signed up for quarterly service (which we never sign up for "service plans" as I'm in marketing and know this is typically an easy way to keep a recurring revenue stream for not much work). We do not want any more mice, and we have confidence in Adam's. And maybe with the service we will get fewer box elders next summer, too, as a bonus!
– Chris G., Edina, MN
I'm in the grocery business and we used Adam's for pest control. I have nothing but good things to say about them! Adam's is always very prompt and professional.
– Dean S.
We live in Minnesota and have a marsh in our back yard. The mice are bad so we have used Adam's for the six years that we have been here. We have not had mice. We also get Boxelder bugs in the summer. They treat for them and spiders also. They have been great. If I have a mouse in the house or any issue I can call them and they will come out the same day. I want only the best working in my house.
– Diane P., Plymouth, MN
Adam's Pest Management Professional did a great job while he was here. He is very professional.
– Dorothy S., Edina, MN
Thank you for sending Craig he is the very very best guy. He works well with the tenants. He is a pleasure to work with.
– Earle B.
After reluctantly making an appointment, this Do It Your Selfer, now believes that it pays to use a professional when you can't get the job done. For two years I have tried to stem the fall mice invasion. Somehow these mice, from a nearby pond, managed to eat their way into our two house. We tried everything. During the visit Michael found the point of entry under our concrete entry. He plugged up a hold, and set traps inside and outside. After sixty days no mice! I feel confident that the mice invasion has stopped. I am a new Adam's Pest Control endorser.
– Edmund V.
Brian is patient, understanding, very nice, and took the time to find all the holes that he could. He crawled completely under our porch to plug holes and I don't think any other company would do something like that for me. We are over the moon with the service we have received from Brian and will be long time customers because of his service.
– Fran E.
I am so pleased with the service performed by Adam's Pest Control. Adam's Pest Management Professional did a through investigation of the foundation and basement and garage and told me what could be done. He did it and wahoo, no mice!!!! I am thinking I am ahead of the season and when cooler weather comes I'll be protected. I have already recommended this company to others. They are wonderful.
– Frances M., Blaine, MN
Adam's is excellent. They can spray both inside and outside. Adam's Pest Management Professional explains things very well. I would rate them high overall and would continue to use them in the future.
– Howard F., Edina, MN
Adam's is affordable, active, and good communicators. I will continue to use Adam's in the future.
– Jamie D., Mound, MN
Paul came out and did a GREAT job and was VERY informative. I am happy that he'll be doing the service at my home.
– Jeanne F.
Kevin treated my home and he represents the company well. I could not be happier with the service. Kevin's attitude, professionalism, and attention to details were outstanding. Adam's is lucky to have him.
– Jeff G.,
I am very pleased with the work that Evan did at my house. I am very impressed that he showed up when he said he would and even on a weekend! He took the time and explained exactly how the service worked as well.
– Jeff T.
Prompt service and I have no more spiders! Very courteous service tech as well!
– Jerome H., Lakeville, MN
Everyone was very impressed with the work Adam's does, expecially with their commitment to helping needy families who are faced with bed bug infestations. Many of them have asked me to pass along their appreciation. Please pass along my thanks to Adam's Pest Management Professional and Marvin, the bed bug beagle as well. They are all really great ambassadors of a company that really cares about the community.
– Jim Elfering, Bridging, Inc.
Adam's does a wonderful job getting rid of the bugs. Thank you!
– Jo G., Rochester, MN
We have been using Adam's to control carpenter ants and other insects in and around our home for many years now. Adam's always call in advance to schedule, have the benefit of recurring payment/service plans. (So our treatments don't accidentally lapse if I don't have it at the top of my mind!) Also Adam's allows us to either choose to be home (inside) or not (outside only) service. Always prompt, the treatments work, and our Adam's Pest Management Professional is great! Look no further for pest control…
– John O., Minneapolis, MN
My Adam's Pest Management Professional was really quite nice and very professional. I really do appreciate all your help.
– Judy M., Maple Grove, MN
Herman always does a great job at my home! He is very helpful, knowledgeable, and always takes him time and was very thorough.
– Karmelia T.
I really like my Adam's Pest Management Professional. He was fantastic and I signed up for the premier quarterly with him.
– Kristen O., Eagan, MN
When Adam's Pest Management Professional was here he did a wonderful job. I thought I had some possible bed bugs from going on vacation, and everything turned out to be fine. He was great and very professional. He did not have his dog with him at this time, but he had talked about that and the experience that he's went through and knows. Adam's Pest Management Professional gave me some good pointers of what to look for when traveling. I just wanted to say thank you for calming my nerves and anxiety even though it is just a bug!
– Kristy M
I would like to send a note of thanks to my Adam's Pest Management Professional for coming out today (Saturday) to get a dead skunk from under our cabin. He was prompt, courteous, and went under the cabin to get the dead skunk quickly. We definitely appreciated his work today.
– Leslie R.
Frank was just at my house and he was Fantastic! He did a wonderful job, is a wonderful person, and was very helpful. I am very very satisfied with him and the work he does.
– Linda G.
I like the fact that the person who works with me is very professional, very thorough and very knowledgeable. Adam's Pest Management Professional gives good recommendations about what to do. He is very clean, on time and makes sure that the job is done.
– Linda G., Minneapolis, MN
Adam's Pest Management Professional did a very good job and I very much enjoy his service.
– Maryann S., MN
Adam's Pest Management Professional is great and really cares.
– Mike V., Prior Lake, MN
We cannot say enough good things about Adam's and Frank in particular. He was fantastic and his sense of humor was perfect for breaking a stressful situation. Needless to say, you have earned a loyal customer. We will be in touch soon to talk about setting up regular service.
– Mike W., Minneapolis, MN
Craig did a wonderful job and I will now be a loyal customer. I have family all over the state and will be referring them to you. I also have a cabin up north that I will want him to service! He has great customer service!
– Nancy C.
I am very pleased with Frank. He is very thorough, knowledgeable, punctual and friendly. He does great work. I also feel better knowing that myself and my children are comfortable around him. He is very trustworthy.
– Patty C.
Adam's Pest Control did an inspection in our home for bed bugs. We had some unexplained bug bites, and thought it may be bed bugs. Adam's Pest Management Professional came to our home and did the canine inspection, where the dog sniffs around the house. He checked every room in the house. He even showed me what a live bed bug looked like (in a sealed vial!). He used the live bug to show me what the dog would do if he found a bug in my house. Adam's Pest Management Professional explained what the further steps were in case of future bites, printed a receipt, and gave us his card for future reference.
– Paul R., Lakeville, MN
Adam's service is great. They are very reliable. Always on-time. Very professional.
Just a quick note to say how much I appreciate your service. I have been virtually pest free since I began having Adam's come out. Additionally, my Pest Management Professional is a great person to work with and I look forward to seeing him again for the next maintenance visit. Keep up the good work!
– Ray L., Rockford, MN
I get quarterly service from Adam's. Adam's Pest Management Professional does a good job and keeps the insects at bay. Adam's sprayed for Asian Lady beetles, Boxelder bugs, and many others.
– Rose S., Prior Lake, MN
Adam's provides excellent service and we have had nothing but good experiences with them. There are times when Adam's will go beyond the call of duty. Adam's Pest Management Professionals are matched to you so you are treated as their customer; I have had the same person for a year and a half. With my previous service I got a new person every time and I didn't like that because these people have to look in every corner of my house. I think Adam's billing is very fair and they are always very prompt. You get automatically scheduled and they call you a few weeks ahead of time to remind you of the service.
– Shanlee S., Minnetonka, MN
Derek is excellent in every way! He is very personable, knowledgeable, and went above and beyond. In my line of work (realty) you don't come across this very often.
– Shirley D.
Thank you so much for your service! Adam's has great customer service!
– Sue A., St. Paul, MN
I had an issue with ants that was a bit complicated. The staff at Adam's was extremely professional and helpful and I'm completely satisfied with the service. I had called other pest control providers prior to calling Adam's and was unhappy with how they treated me, which made me skeptical to even contact another pest control provider.
I did however contact Adam's and the staff involved was very professional and have solved my ant issue. Dr. Mohammed El Damir, BCE, did the identification for me and I was treated/taken care of on short notice.
Again, I just wanted to say "thank you" to Adam's and the staff involved for such great service!
– Tracy C., Eagan, MN
Or Call: 866-395-0460
Fast & dependable pest management & prevention services.