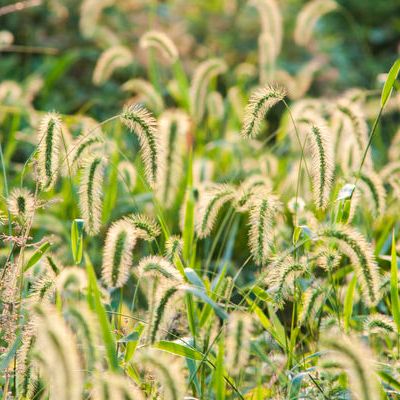 Common Chickweed is a winter Foxtail (Setaria) is an annual that grows quickly during the warmth of summer. A foxtail is a spikelet or cluster of grass that disperses its seeds as a unit, meaning it is a diaspore. There are a variety of weedy grasses with the name Foxtail. In some species, foxtail can be hazardous to dogs and other animals because they have a pointed tip and retrose (backward pointing barbs) that can become lodged in the animal's ears or nostrils. When mature, Foxtails range from 1' to 3' high and branch at the base.
Foxtail Foliage:
Foxtail leaves are typically 8" – 10" long with 6 to 10 leaves on the plant. The leaves hang just below the crownshaft of the flowers and fruit clusters and are a deep green color with silvery undersides. The leaves are flat to v-shaped and twisted in a loose spiral with characteristic long hairs near the stem attachment. Male and female flowers appear on the same flower stalks and trees. The fruit clusters are about 2" long and shaped like an egg. Although the fruit clusters are green when immature, they turn an orange-red as they ripen. After ripening, they fall to the ground along with the attached stalk.

Foxtail Flowers:
The flower heads on a Foxtail are spike-like and bristly with compressed packed flowers. The species vary, but all foxtail flowers are cylindrical and spike-like resembling a fox's tail.
Bloom times and flower-head lengths for some common species are:
● Giant Foxtail: June through November – flower heads are around 3" – 7" 
● Green Foxtail: May through November – flower heads are around 7/10" – 3" 
● Yellow Foxtail: June through December – flower heads are around 7/10" – 6"

Foxtail Roots:
Foxtails typically grow in loose clumps and have deep root systems.

Treatment for Foxtail:
Hand removal can be used where there are a limited number of foxtails. Pre-emergence and post-emergence treatments are used to control foxtail populations. When using lawn pre-emergent products, watering should be done right after application in order to improve their effectiveness.

Talk to an Adam's Healthy Lawn Expert!
Adam's Pest Control Gets Rid of Common Weeds and Lawn Diseases.
Fast, Local Response
Competitive Pricing
Friendly Service
Licensed Professionals
100% Satisfaction