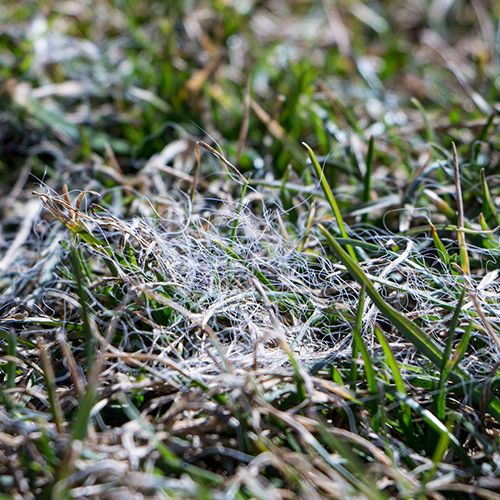 Snow mold, also known as snow rot, is a common problem in areas with late snow covers and cold, damp springs. Snow mold flourishes under snow or wet leaves during the winter months. Snow mold is more prominent when the winter's first snows were early and heavy enough to cover ground that wasn't yet fully frozen. Conversely, a cold winter without much snow cover results in less snow mold in the spring.
What Snow mold looks like:
Snow mold is caused by two types of fungi: gray snow mold (Typhula spp; also known as Typhula blight), and pink snow mold (Microdochium nivalis, also known as Fusarium patch). As the names suggest, gray snow mold has a white-to-grayish webbing, while pink snow mold is grayish to pink.
How to prevent Snow mold:
● Mow your lawn a little shorter than usual and rake leaves in the fall to minimize harborage for snow mold spores to overwinter.
● Bag grass clippings the last few times you mow in the fall
● Avoid fertilizing your soil with nitrogen in the fall. Feeding your lawn nitrogen late in the season will exacerbate the problem.
● Aerate your lawn in the fall. Compacted soils keep the top layer moist longer after snow retreats, thus encouraging the disease.
● Remove thatch that is more than ½" thick in the fall.
How to eradicate Snow mold:
Even though snow mold damage is unsightly, it is not serious. As temperatures rise and your lawn dries out, the snow mold will go away on its own.
You can gently rake the damaged area and reseed the bare spots to hasten the green up.
Talk to an Adam's Healthy Lawn Expert!
Adam's Pest Control Gets Rid of Common Weeds and Lawn Diseases.
Fast, Local Response
Competitive Pricing
Friendly Service
Licensed Professionals
100% Satisfaction