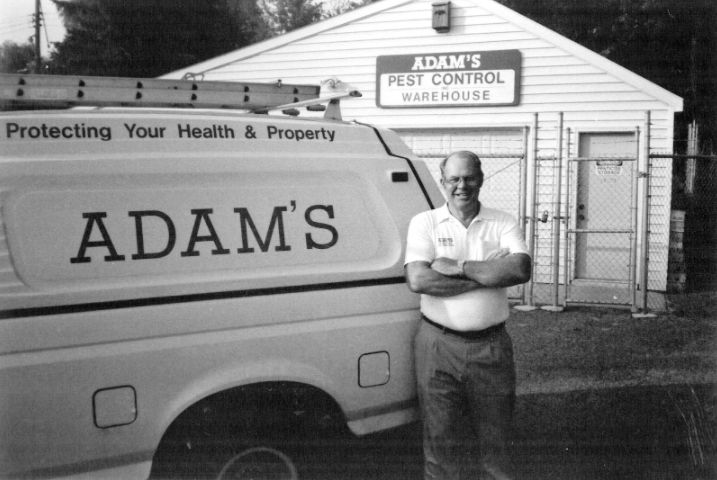 At Adam's Pest Control we are so excited to reach our 50 year milestone. It would be impossible to get to this point without our customers, distributors, and hard working employees. We often don't take time to look back at where we've come from because there's always somewhere new to go, but today we thought we'd share 50 facts and pieces of history about Adam's Pest Control.
50 History Facts
Adam's Pest Control was founded in 1971.
First year revenues were just over $3,000.
The owners' families didn't eat out for the first 3 years in business, except annually to celebrate at the Chanhassen Dinner Theater.
The company was founded by Don Hanson and Harold Leyse.
The company originally operated out of Harold's Golden Valley basement.
The title of president was decided by a coin flip. Don won.
Adam's subleased part of a office/warehouse space from a veterinarian supply space in Brooklyn Park from 1981-1983.
The former Anchor Motel in Medina was purchased in 1983 and served as the first owned property.
Part of the building was still operated as a motel until 1997 when all motel spaces had been converted to pest control use.
When Todd joined Adam's, the computer system was a couple of computers connected by "sneakernet", meaning you wrote files to a diskette and walked it to someone else. He connected the computers to the first network and to the Internet.
Todd built the first two company websites himself, starting in 1996. It has been rewritten professionally 3 more times since.
We were the first company in the state of Minnesota (and one of the first few in the country) to use heat to treat bed bugs pioneering the modern bed bug service for the state.
Many companies across the country have traveled to our office to learn about how we do bed bug services.
Founder Harold Leyse held two pest control related patents. One one was sold to B&G Equipment Company.
Adam's has had three bed bug sniffing dogs, Hector, Marvin, and Baxter.
Adam's was the first company in Minnesota with four NESDCA-certified K9's teams.
We developed our own field management software called Blu Star Field Service Management System.
Adam's operated without a computer system, then with Pest Control Systems until 2001, buying a used server and hard drive the sizes of dishwashers from Griffin Pest in Michigan, with PestPac until 2013, then with cloud based Blu Star.
In 2007, we moved to our current location. This was a move of only about 200 feet, but a significantly bigger building.
In 1992, founder Harold Leyse was inducted into the Minnesota Pest Management Hall of Fame, having served as President 4 times.
In 2008, owner Todd Leyse was inducted into the Minnesota Pest Management Hall of Fame, having served as President 3 times.
In 1993, owner Harold Leyse won the PCT Crown Leadership Award.
In 2008, owner Todd Leyse won the PCT Crown Leadership Award.
Early vehicles were typically Ford F150's, then typically Ford Rangers, and then typically Ford Transit Connects.
Nearly all of our approximately 300 vehicle purchases have been Fords, as we prefer to buy from an American company.
In 1999, we started using customized license plates for our fleet.
Adam's has a heat chamber allowing us to study more about bed bug heat treatments. The heat chamber also allows customers to heat particular furniture items or luggage after returning from travel.
One of our founders, Harold, alongside cartoonist Cliff Johnson, released a book called "Pest Jests", a compilation of their 8 smaller books published in the 1980's. The books contained cartoons, trivia, and jokes related to the pest control industry.
In 2009, Adam's acquired Advanced Pest Control and Advanced Mosquito Control establishing our Brainerd Lakes area branch (actually located in Nisswa).
One of the buildings at the Brainerd branch location functions is a house allowing technicians from the Twin Cities to stay there a couple of days during our busy season. It has been dubbed the "Pest Western".
A later acquisition, the Milaca property which was the base for area lawn care services, was dubbed the Milaca Mothtel.
Founder Harold Leyse worked 40 years at Adam's Pest Control before retiring. He worked, but his time in the pest control industry goes back even further. In total, a 48 year career in pest control.
Our company was not named after a person or thing, but to rank highly in the phone book (which was a big deal at the time!).
The original logo was sketched by Harold Leyse.
Our original logo referenced Adam from the bible (Adam and Eve).
The tagline in the early days was "There were even pests in the garden of Eden!"
The National Pest Management Association named Adam's as its first GreenPro certified pest control company in the nation under new, tougher standards.
Adam's is recognized as the 55th largest pest control company in the United States, according to the PCT Magazine's 2020 Top 100 List.
Our training room currently has live Madagascar Hissing cockroaches.
In the past there has been a live tarantula and scorpion in the training room. Cute.
The primary charities we are currently involved with are Toys for Tots, The Animal Humane Society, and Nothing But Nets which provides mosquito nets around the world to help prevent deadly malaria.
We are also heavily involved in Minnesota Professional Women in Pest Management (PWIPM).
Adam's donated $25,000 to the Sara R. Leyse Memorial Fellowship Fund at the University of Minnesota and influenced two other organizations to match. These $75,000 help graduate entomology students.
Adam's Pest Control has maintained a beehive with honey bees for the last two years.
In 2012, Adam's transitioned the fleet to its current branding following focus group testing.
We hired our first entomologist in 2008, Dr. Mohammed El Damir.
In 2020, we redesigned our uniforms. Primarily to be cooler for technicians in the summer. This was our second major uniform change.
In 2020, part of our warehouse moved to Tower Dr just off of Hwy 55. This location is primarily for vehicle maintenance storage.
In 2020, Adam's Pest Control established the Rochester branch.
In 2020, sister property management company Jan-Har, LLP got approval to build a new office building west of Willow Dr on Hwy 55 in Medina.