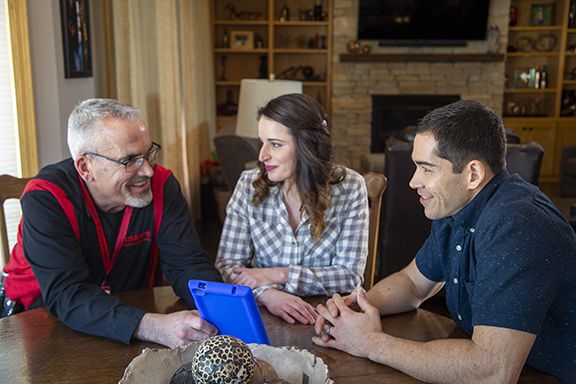 Selecting a pest control company is much like selecting any contractor to work on your home. In addition to quality and value you will also want someone you can trust in and around your home and family.
Before signing a contract with a pest control company, consider the following:
Price. Of course, you don't want to over pay. But the lowest priced pest control company may not be the best choice either. You don't want a company that may be cutting safety corners or using inferior products.
Reputation. Check references (don't believe salespeople who say they're working with your neighbors without asking your neighbors); check their rating with the Better Business Bureau.
License and compliance. Check the State Department of Agriculture or the State Attorney General's Office to discover any complaints that have been filed against the company or its applicators for misusing pesticides.
Certifications. Ask to see credentials by the National Pest Management Association (NPMA). Look for "QualityPro" and "GreenPro" certifications, as well as members in good standing. This will inform you that the technicians have had background checks and have passed a higher level of professionalism.
Years in business. How long the company has been in business demonstrates stability and allows more time for their reputation to be vetted. Longer is generally better.
Pesticides used. Professional applicators will provide copies of pesticide labels and a receipt that shows how the product should be applied, including the proper application rates, and the necessary precautions.
Included pests. Know what pests are included in the contract. A company offering a lower price may not include as many common pests in the warranty and charge extra to treat excluded pests.
Do NOT hire companies or individuals that:
Sell pest control door-to-door. Check references and ask if they are local. Many are from out-of-town and when asked, "who do you work for?" will answer evasively that "I work with…."
Beware of high-pressure sales. Professional pest control companies will not make "good while I am here offers" or require you to make a decision without time to consider alternatives.
Offer pest control as a side business. Home remodelers, tree trimmers, and lawn companies may not have the correct license to treat your home. Look for a "structural" pest control license. Otherwise they may be able to treat your lawn, but not your house.
Don't have a listed or working telephone number.
Use pesticides or other chemicals that are not registered by the U.S. EPA and your state's Department of Agriculture. Registered pesticide labels contain a list of active ingredients.
Do not perform an inspection prior to treatment. Correctly identifying the pest and knowing the best methods to eliminate it are key to professional pest management.
Show up uninvited and claim they found a specific pest at one of your neighbors as evidence that you may have the problem, too.