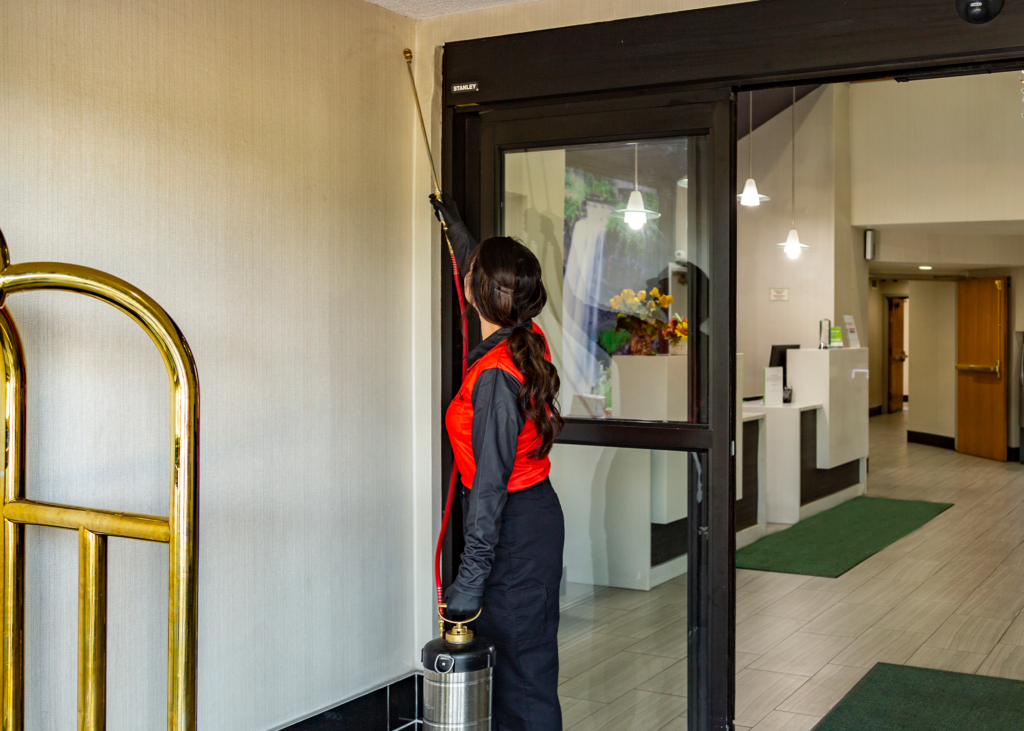 Commercial Pest Control Criteria
Pest control is not only an important aspect of maintaining a healthy and hygienic work environment, it's also part of protecting a business's reputation as well. When it comes to choosing a pest control company, they're not interchangeable. It's important to consider several factors to ensure you get the best service for your business.
Experience and Reputation: Look for a company that has been in business for several years and has a good reputation in the community. Check online reviews, ask for references, and check their rating with the Better Business Bureau.
Certifications and Licenses: Ensure that the company is licensed and certified by relevant authorities to operate in your area. This will give you peace of mind knowing that the company follows industry standards and regulations.
Pest Control Methods: Choose a company that uses environmentally friendly and safe pest control practices. This will help to minimize the risk of exposure to harmful chemicals and will also help to protect the environment.
Cost: You should choose a company that provides quality services at an affordable price, but don't compromise on quality for a lower price. Additionally, a business practice to be aware of, some companies may initially offer a lower price to win a bid, but then add a steep price increase in year two.
Guarantee: Choose a company that offers a guarantee on their services. This shows that the company has confidence in their work and is committed to providing effective pest control services.
Communication and Availability: Choose a company that is easy to communicate with and is available to provide services at your convenience. The company should also have a responsive customer service team to address any concerns you may have.
By considering these factors, you can choose a pest control company that will provide effective and efficient services to keep your business free from pests.
Adam's Provides Top-Tier Commercial Pest Control
Let's Look at how Adam's Pest Control fits these requirements and why Adam's is the safe and reliable option for your business.
Experience And Reputation: Adam's is a Minnesota-based company that has been in business since 1971. We are trusted to provide pest control for many different commercial properties, including sensitive properties such as medical facilities, food facilities, malls, schools, and more. We also have an A+ rating with the BBB and 4.2 stars on Google.
Certifications and Licenses: All of Adam's technicians are licensed. In fact, many technicians have gone beyond minimum licensing standards, picking up additional certifications such as the Purdue Certification and Master's License.
Looking at training, all of our technicians go through our comprehensive initial training program where they are trained by our Ph.D. entomologist and receive many hours of ongoing training throughout their careers.
Pest Control Methods: We utilize integrated pest management (IPM) principles in our pest prevention solutions. IPM is a philosophy that encourages multiple control techniques for an effective and efficient service that is less reliant on pesticide usage.
Cost: Adam's provides high-quality pest control at a competitive price. This is especially true on the commercial side. Our pricing is structured so that the higher your service coverage, the more money you save on your YEARLY plan. This is possible because higher service frequency allows us to provide preventative pest management rather than reactionary pest management. We pass these savings on to the businesses we work with.
Guarantee: Our renowned guarantee covers both the residential and commercial sides of pest control. We include a guarantee with all of our work because we believe in our operating procedures and our technicians. If you're still having issues with covered pests after one of our services (and you're still within the guarantee period), we will provide additional service at no charge.
Communication and Availability: Adam's has a customer service division that places the needs and satisfaction of our customers at the forefront of its operations. The division focuses on providing personalized and efficient solutions to customer inquiries and concerns.
Commercial Service?
Do You Need Pest Control For your Business?
For more information about our commercial pest control services visit: adamspestcontrol.com/commercial or call 763-478-9810