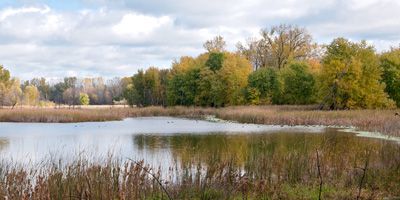 Adam's Pest Control in Eagan, Minnesota
Adam's provides ongoing pest prevention and fast, local response to pest problems in Eagan. For the best pest control in Eagan, MN count on Adam's.
Eagan is the eighth largest city in Minnesota with just over 67,000 residents. It is uniquely located equal distance to both downtown Minneapolis and St. Paul and is just across the Minnesota River from Minneapolis-St. Paul International Airport.
Organized in 1860, Eagan took its name from Patrick Eagan, the chairman of the city's first board of supervisors.
The names of many familiar major roadways in Eagan are based in history.
Lone Oak Road
Eagan's "Lone Oak" was a bur oak tree that stood on the property of Trinity Lone Oak Church and was estimated to be around 200-300 years old. It was a meeting spot in the early years of the community. In 1976, the Lone Oak Tree was given the designation of a Heritage Tree by the Minnesota State Horticultural Department. Unfortunately, the tree started to die and was cut down in 1983. The lone oak is depicted in the city logo as a "Symbol of Strength and Growth."
Pilot Knob Road
The prominent hill near the intersection of Highways 13 and 55 (where the Acacia Cemetery is located) was a reference point for riverboat pilots as they headed upstream to the landings at Mendota and Fort Snelling. Referred to as "Pilot Knob," the reference point later became significant for airplane pilots as they made their approach to the airport across the river. A little known fact is that Pilot Knob was once considered as a possible location for the State capitol before Henry Sibley convinced Congress to make St. Paul Minnesota's capital.
Dodd Road
Dodd Road was one of the earliest constructed roads in the area. In 1854, Captain William B. Dodd (who went on to be the founder of St. Peter, MN) was commissioned by the United States government to build a "military road" from Fort Atkinson in Iowa to Fort Snelling. Dodd was promised payment by Congress, but it was never sent. So he gathered funds from settlers and with a work party of ten laborers and a surveyor, constructed the 65-mile path through woods and prairie that we now know as Dodd Road.
Wescott Road
In the 1850's, James Wescott opened an inn in eastern Eagan. The Inn was first a stage coach stop, then a flag stop on the Milwaukee & St. Paul railroad (Minnesota Central), and finally a train depot and commercial center. The general store and telegraph office were operated into the 1920's and was the site of one of the first telephones in Eagan
Yankee Doodle Road
Prior to World War I, one of the main east–west roads in the City of Eagan was known as Schmidt's Road. However, during the war anti-German sentiment ran very high. According to city legend, when a resident of German descent was publicly asked where he lived he responded, "Yankee Doodle Road". And the name stuck.
Eagan offers many attractions for its residents and guests…
Links to Eagan community resources:
City website: https://www.cityofeagan.com/
Parks and Recreation: https://www.cityofeagan.com/parks-recreation
Eagan Public Schools: http://www.district196.org/
Eagan Public Library: https://www.co.dakota.mn.us/libraries/HoursLocations/Wescott
Chamber of Commerce: https://www.dcrchamber.com/
Eagan Economic Development: https://www.cityofeagan.com/economic-development
Eagan Historical Trail: http://troop_453.tripod.com/eagan_historical_trail_guide.htm
Eagan is home to over 2,000 businesses and one of the largest corporate centers in the Minneapolis-St. Paul region.
Companies located in Eagan, MN include:
Thomson Reuters
Blue Cross Blue Shield of Minnesota
United States Postal Service
United Parcel Service
Ecolab
Coca-Cola Refreshments
Prime Therapeutics
Wells Fargo Home Mortgage
Argosy University
Adam's is proud to serve Eagan businesses with dependable commercial pest control tailored to the specific needs of each location.
Read more about Adam's commercial pest control
With more than 1,200 small lakes, wetlands and ponds and a landscape made up of rolling hills and an abundance of mature trees, Eagan is not only an attractive home to its residents, but a variety of pests, too.
Common Pest Issues in Eagan
Homeowners and business owners in Eagan contend with a variety of pest issues, including:
Technicians
Meet the Best Pest Control Techs in Eagan:
Healthy Lawn
Adam's professional lawn care service is keeping Eagan lawns green, lush, and healthy.