Pest Control In Saint Paul, Minnesota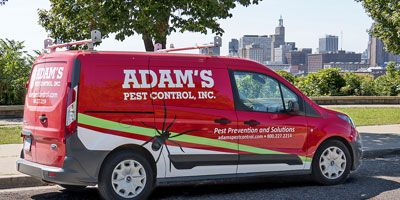 Whether it's for your home or business, Adam's provides the best pest control in St. Paul. We are the pest experts in St. Paul because have provided pest control in the Twin Cities for over 50 years! Adam's provides fast response
Known as America's most livable city, St. Paul is the capital and second-most populous city in Minnesota. St. Paul is a city of neighborhoods, including well-known, historically significant neighborhoods such as Dayton's Bluff, Swede Hollow, Payne-Phalen, Frogtown, Summit-University, Como Park, Hamline Midway, Saint Anthony Park, Union Park, Macalester-Groveland, and Highland Park. But more than simply an identity, St. Paul neighborhoods are formally organized into 17 City Districts to engage residents and collaborate with city government – one of the first cities in the nation to do so.
History
St. Paul is also known for its colorful, if not dubious, past. The first settlement in what is now St. Paul was Pig's Eye Landing, a trading center where Pierre "Pig's Eye" Parrant sold bootleg whiskey to fellow squatters, Native Americans, and soldiers from nearby Fort Snelling. Parrant set up his still and built a saloon near the mouth of Fountain Cave located approximately 1/4 mile southwest of the intersection of Randolph and Shepard Road in 1838.
In 1841, Lucien Galtier, a Roman Catholic missionary, built a log chapel near present-day Second Street and Cedar Street and dedicated it to the apostle Paul. Galtier persuaded the settlement to adopt the name Saint Paul in honor of the new chapel.
St. Paul became the capital of the newly formed Minnesota Territory in 1849. However, in 1857, the territorial legislature voted to move the capital to Saint Peter. At least that was the plan until Joe Rolette, a territorial legislator, stole the only physical copy of the approved bill and went into hiding; preventing the change from St. Paul. On May 11, 1858, Minnesota was admitted to the union as the thirty-second state, with Saint Paul as the capital. That year, more than 1,000 steamboats were in service at Saint Paul, making the city a gateway for settlers to the Minnesota frontier, the Dakota Territory, and points west.

Lawlessness and political corruption were the hallmarks of St Paul in the early 1900s. The collaboration between the St. Paul police department and gangsters began with the Layover Agreement in 1900. In exchange for protection, criminals agreed not to conduct any criminal activity within St. Paul's city limits and to share a portion of the booty from crimes outside St Paul with the police. As a result, St. Paul was a safe refuge for gangsters including the likes of John Dillinger, Babyface Nelson, Al "Scarface" Capone; and the outlawed duo Clyde Barrow and Bonnie Parker. In 1932, more than 20 percent of the nation's bank robberies took place in Minnesota.

Today, St. Paul is a major education, health care, government, financial, and industrial center. St. Paul is home to nearly 30,000 businesses in a variety of industries, including medical, financial, retail, agriculture, packaged goods, energy, technology, and precision manufacturing.
Adam's is proud to serve St. Paul businesses with dependable commercial pest control tailored to the specific needs of each location.
Read more about Adam's commercial pest control in St. Paul
There is so much to do in St. Paul
St. Paul Saints baseball at CHS Field in downtown's Lowertown Historic District
MN Wild hockey games at Xcel Energy Center
Harriet Island Regional Park and several other recreational areas along the Mississippi River
The St. Paul Winter Carnival
Como Zoo and Conservatory
Events at RiverCentre, the city's convention center
Theatrical productions and concerts by the Saint Paul Chamber Orchestra and the Minnesota Opera at the Ordway Center for the Performing Arts
Cultural and arts programming at the historic Landmark Center in downtown Saint Paul
And many museums and historical sites, among them
the Minnesota Children's Museum
the Science Museum of Minnesota
the Minnesota Museum of American Art
the Minnesota History Center
the Alexander Ramsey House
the James J. Hill House
Links to St. Paul community resources:
SPPS Early Childhood Education
Common Pest Issues in Saint Paul
Homeowners and business owners in Saint Paul contend with a variety of pest issues, including:
Technicians
Meet the Best Pest Control Techs in Saint Paul:
Healthy Lawn
Adam's professional lawn care service is keeping Saint Paul lawns green, lush, and healthy.
Adam's uses a specific blend of premium, professional grade fertilizers to keep St. Paul lawns the greenest. And Adam's regular weed treatments throughout the growing season means you won't be bothered by crabgrass or other weeds.